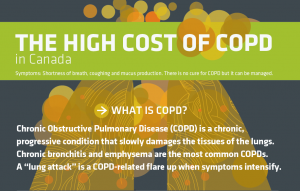 View our infographic – The High Cost of COPD.
The PROOF Centre's COPD Biomarker Program is developing modifiable biomarkers to identify patients at high risk of exacerbations that can be used to guide patient management and discovery and develop new therapies.
Read more about our COPD Biomarker Program here.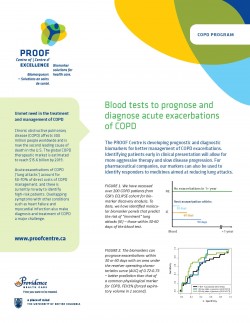 The Latest News on our COPD Program
How will our COPD Program Help Patients Like Vivianne?
"When you get a lung attack, your capacity to breathe is reduced to half," shares Vivianne Toupin who has been suffering from COPD for more than twenty years and experiences an exacerbation at least once a year. "And everything suddenly freezes. Your mind stops working, you are constantly gasping for air, and you have no energy. You basically become a vegetable." Click here to find out how our COPD program can help patients like Vivianne.
What is COPD?
Chronic Obstructive Pulmonary Disease (COPD) is a long-lasting respiratory disorder that causes the airways of the lungs – the breathing tubes that carry air in and out of the lungs – to be inflamed and become "obstructed". There are two main forms of COPD: Chronic bronchitis which involves a long-term cough with mucus, and emphysema which involves destruction of the lungs over time. Most people who have COPD have both emphysema and chronic obstructive bronchitis.
Those who live with COPD are prone to lung exacerbations or "lung attacks", which refers to a sudden worsening of their condition including more coughing, shortness of breath and mucus production. COPD has no cure yet, but treatments and lifestyle changes can help patients stay active, and slow the progress of the disease.
Quick Facts about COPD
Those suffering from COPD usually experience shortness of breath,  long-lasting coughs, and sputum production. COPD gradually deprive  individuals of their health and vitality, and affects their quality of  life. Up to 79 per cent of Canadians with COPD avoid everyday  activities.
Hospital admissions for COPD lung attacks in Canada averaged a 10-day  length of stay at a cost of $10,000 per stay. The total cost of COPD  hospitalizations is estimated to be at $1.5 billion a year.
COPD affects approximately 3 million Canadians, including 1.5 million  Canadians who say they currently suffer from this disease and another  1.5 million undiagnosed Canadians. This makes COPD Canada's fourth  leading cause of death.
Click here to read more important facts on COPD.